SOMETHING ABOUT DPF, FAP, SCR, CATALYSTS AND THEIR ROLE

Since 1990, on petrol engines, and since 2000 on diesel engines. In the countries of the European Union, it has become an obligation to equip all new vehicles with catalysts. This measure, contrary to the opinion of the majority, makes the exhaust system one of the most perfect parts within the engine. Since the performance of such an engine depends on the accuracy of the level of return pressure exerted on the engine by the exhaust system. DPF or so-called "DIESEL PARTICULATE FILTER" (DIESEL PARTICULATE FILTER), often called FAP or SCR catalyst, are adapted for all motor vehicles, working machines such as: excavators, backhoe loaders, cranes and many other machines that run on diesel or gasoline. .
Catalysts in filters on petrol-powered vehicles, in which all three harmful exhaust gases (CO, HC and NOx) are treated into harmless gases (CO2, H2O, N2) and collect unburned PM particles.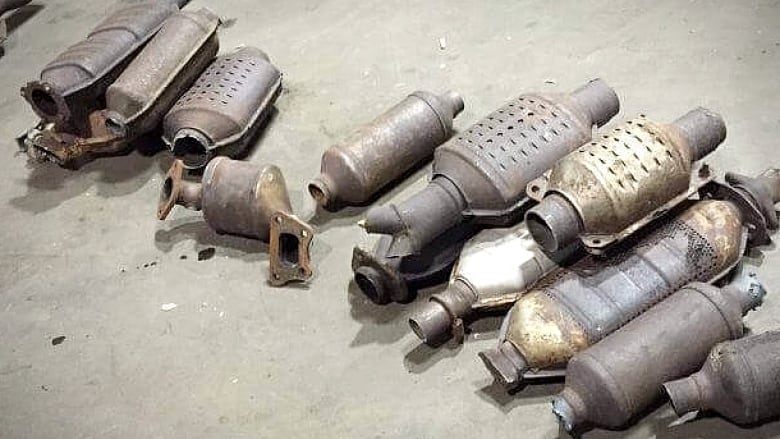 CATALYST FILTERS
THE INSTALLATION OF DPF FILTERS, AMONG THE FIRST MANUFACTURERS OF CARS, WERE F PEUGEOT, CITROEN AND FIAT VEHICLES.
Manufacturers of these brands have started to implement the adopted law on environmental protection, EURO standard (EURO standard is a standard prescribed by all Western European countries, ie the European Union, to manufacturers to reduce environmental pollution) by installing DPF and catalyst filters according to EURO standards . These standards determine how much exhaust gases can contain harmful particles in different conditions of use.
A DPF filter in conjunction with a catalyst is used to reduce contamination. The DPF filter is an integral part of the exhaust system of diesel vehicles. During the filtration of exhaust gases in order to reduce PM contaminated soot particles as well as other deposits, it is also a container for collecting them.
DPF / FAP filters have all diesel and turbo diesel engines starting from the EURO 4 standard. As the number of pollutants increases, stricter environmental protection laws have been set, and therefore higher standards, such as EURO 5 and from September 2014. the latest EURO 6 standard. This means that turbo diesel engines have had DPF filters since 2000.
EURO STANDARD REQUIREMENTS FROM VEHICLE ENGINE MANUFACTURERS WITH THE FOLLOWING CHARACTERISTICS:
SHOWED IN THE TABLE, CHRONOLOGY OF PRESCRIBED EXHAUST EMISSIONS (G / KM)
Starting date
CO
HC
HC+NOx
NOx
PM
Diesel engines
EURO 3
01.2000.
0,66
-
0,56
0,56
0,05
EURO 4
01.2005.
0,50
-
0,30
0,30
0,025
EURO 5
01.2008.
0,50
-
0,23
0,23
0,005
EURO 6
09.2014.
0,50
-
0,17
0,17
0,005
Gasoline engines
EURO 3
01.2000.
2,30
0,20
-
0,15
-
EURO 4
01.2005.
1,00
0,10
-
0,08
-
EURO 5
01.2008.
1,00
0,10
-
0,06
0,005
EURO 6
09.2014.
1,0
0,10
-
0,17
0,005
PM - Diesel combustion solids - measured by gravimetric methods. Depending on the standard, it is also possible to optically measure the transparency of diesel exhaust gases.
NOx - Nitrogen oxides consisting of nitric oxides (NO) and nitrogen dioxide (NO2).
HC - Hydrocarbons are regulated as total hydrocarbon emissions (THC) or as non-methane hydrocarbon emissions (NHMC). Sometimes a standard may prescribe a maximum common value for THC + NMHC instead of two individual quantities.
CO - Carbon monoxide. When measuring, the engine is measured in conditions of normal temperatures, but it is necessary to meet the conditions even in the "cold start", ie. at start at -7ºC.
This table is the basis, the allowed values ​​are also related to the engine cubic capacity.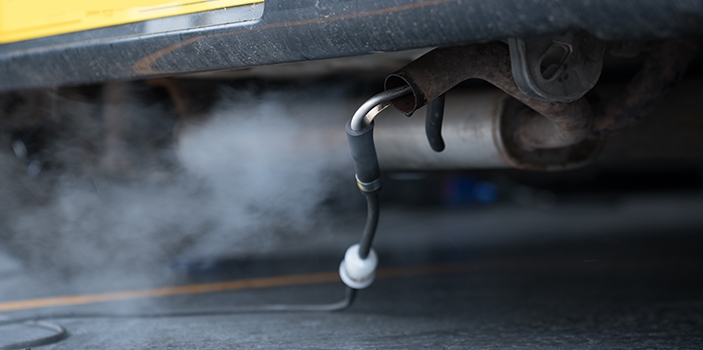 VERIFICATION OF DIESEL EXHAUST GASES.
PM PARTICLES (PM - particulate matter) The presence of PM particles in the air is created by motor vehicles, and these particles mostly occur in diesel vehicles as a product of pyrolytic reactions of fuel combustion at high temperatures in the absence of oxygen and oil deposits on the filter.
PM particles are divided into three groups:
PM10 - coarse particles (between 2.5 and 10 μm),
5 - fine particles (2.5-0.1 μm) i
1 - ultrafine particles (all particles 0.1 μm).